In spite of the summer gallery doldrums, a trip to Culver City to view artwork is far from a waste of time.  Sure, there's plenty of pseudo-profundity art that we've all come to know and expect, and some galleries are closed for vacation, but gems still pop up. Many galleries use the slow summer period to showcase their group shows, and that creates a wonderful opportunity to view the work of a greater variety of artists.
Halfway through my visit, at the point where one's throat is parched and mirages begin to appear from the high temperatures, I stumbled into Susanne Vielmetter's magnificently spacious four-room gallery where a large bottle of cold water was miraculously presented to me; gallery oases do indeed abound. I had two goals in Culver City: find galleries worth spending time at this month and determine which artist impressed me the most. The first task was easy, the second one more challenging. 
The prize goes to three small, graphite-on-vellum works by the artist Joey Huppert at the Catherine Cone Gallery. Graphite is normally associated with drawings, but here Huppert is more interested in graphite as an overall surface, as a unique coloration and a texture in itself. Graphite sits at an important color junction: not quite pewter nor gray or silver, yet somewhat all of them–a sometimes highly reflective, other times deep matte experience. If Ad Reinhardt can play with black, Huppert can play with graphite; this is at the heart of these works. Huppert's pristine craftsmanship in this media is guaranteed to keep the viewer mesmerized.
Also worth seeing are the sculptures of Sam Falls and Mark Hagen at China Art Objects.
Think Space Gallery is displaying the very moody, compelling black, blue, and violet palette paintings of Brett Amory, a superbly proficient draftsman of the human form who is here placing diffused figures in urban settings.
Nye+Brown, known for its minimalism, has a delightful vertical argon-gas-with -mercury, multi-colored, segmented tube worthy of a Dan Flavin.
Skotia Gallery is showing Alexandra Gibson's powerful, take-no-enemies photographs at a Oaxaca slaughterhouse, comprised of models posing with butchered pig carcasses.
There's a splendid painting at a Koplin Del Rio group show of the back of a female at the beach by the figurative artist John Nava. Nava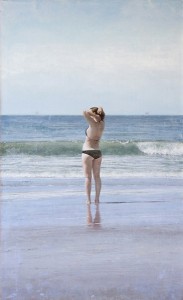 balances that fine line between rendering the human form as illustration, or containing a gossamer presence; in this case feeling wins out.
Finally, a visit to Angles Gallery gives the viewer a thought-provoking eclectic show of portraits that include such artists as Don Bachardy and  Elizabeth Peyton.